Jessica Hsueh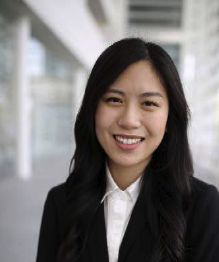 2015-2016 Bennett and Jeanette Duval Undergraduate Scholarship recipient
"As a first generation college student, I was never sure how I would be able to get into medical school. Besides the competitive nature of the application process, there is a very large financial hurdle and burden. I can say with confidence that your contribution has helped me reach my aspirations. I can only hope to have the opportunity to give back to others in the form of service to my future patients and mentees."
Jessica is currently a fourth-year medical student at Case Western University in Cleveland, OH. She recently matched into her dream career in Ophthalmology and will be training at the Dean McGee Eye Institute in Oklahoma City. Of her undergraduate experience, she writes, "My time at UCLA was instrumental in preparing me for the field of medicine. The academic rigor prepared me for the intensity of medical training. Additionally, the exposure to multiple organizations and volunteer opportunities at UCLA solidified my decision to pursue medicine. I will bring my work ethic and commitment to excellence into my future career in saving patients' sight."
During her time at Case Western, Jessica has been very active in research and community volunteering. She participated in basic science research, studying glaucoma at University Hospitals in Cleveland, and earned a Prevent Blindness Research Fellowship. She also participated in clinical research in retinal diseases at the Cole Eye Center at the Cleveland Clinic, and has presented and published widely in the field. Jessica was vice president of APAMSA (Asian Pacific American Medical Student Association), led the school's medical student elective at Cleveland International Community Health Center, and also co-started a Medical Mandarin elective for future students.
---
Catherine Wang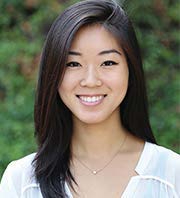 2014-2015 Bennett and Jeanette Duval Undergraduate Scholarship recipient
"Thank you so much for creating this scholarship. It was extremely helpful as I was applying to medical school and the scholarship tremendously helped offset the cost of application fees."
Catherine is a medical student at the Keck School of Medicine of the University of Southern California. She is currently completing a research year at the National Institute of Health (NIH) in Bethesda, Maryland as part of the Medical Research Scholars Program. At the NIH, Catherine is conducting research into Merkel cell carcinoma, a rare and aggressive neuroendocrine skin tumor. She will be returning to Los Angeles to complete her 4th year of medical school next fall, and she plans to apply to residency programs in dermatology.
Catherine writes, "My four years at UCLA were some of the best years of my life. I met incredible mentors and peers, and I would not be in the position I am today without my time at UCLA."
---
Maryanne Ibrahim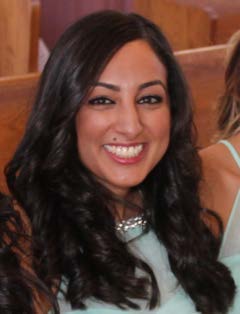 2013-2014 Bennett and Jeanette Duval Undergraduate Scholarship recipient
"I am very appreciative of your generosity and the honor that it was to receive your scholarship and award! It was definitely one of my proudest achievements as an undergraduate and a great reward for my hard work. I hope you feel that your generous award is being paid forward. Thank you very much!"
A California native currently living in Houston, Maryanne is a third-year resident physician in the Internal Medicine-Pediatrics program at Baylor College of Medicine. She completed medical school at UCLA, during which time she took a year off to conduct Pediatric HIV research in Botswana through the Doris Duke International Clinical Research Fellowship/Harvard School of Public Health.
Two primary publications from her research in Botswana include High Sensitivity and Specificity of the Cepheid Xpert HIV-1 Qualitative Point-of-Care Test Among Newborns in Botswana and Targeted HIV testing at birth supported by low and predictable mother-to-child transmission risk in Botswana. She notes that the tools she learned in her undergraduate research lab were tools that she used throughout her research projects in Botswana.
Maryanne hopes to work as a combined hospitalist physician in both Internal Medicine and Pediatrics, preferably back at UCLA or the University of California, San Diego. She also wants to continue to pursue her research in global health, particularly in Pediatric HIV.
---
Sharon Essewin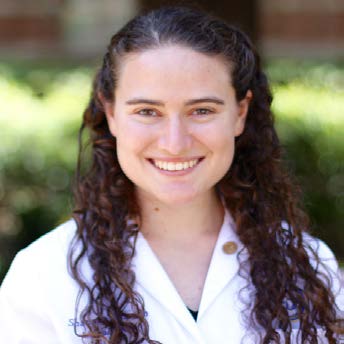 2012-2013 Bennett and Jeanette Duval Undergraduate Scholarship recipient
"Thank you so much for providing this scholarship. Your support came at a pivotal time in my undergraduate studies, making it possible for me to achieve my career aspirations in medicine and science. "
Sharon is a student in the UCLA-Caltech joint MD-PhD program where she is pursuing her goal of becoming a physician scientist. Her time at UCLA, particularly her involvement in laboratory research, sparked her interest in molecular and structural biology and shaped her career goals in biomedical research.
After receiving her B.S. at UCLA, she pursued a master's degree at the University of Cambridge through a Gates Cambridge Fellowship. Her current Ph.D. research focuses on antibodies that potently neutralize Zika virus, which she is hoping to publish in Proceedings of the National Academy of Sciences in a few months.
---
Alice Li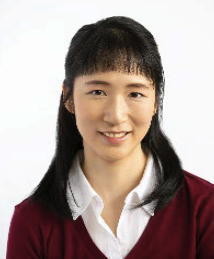 2011-2012 Bennett and Jeanette Duval Undergraduate Scholarship recipient
"Receiving this award greatly encouraged me to continue pursuing my professional interests in research and medicine during a critical personal time when I would often question myself. The scholarship was also invaluable towards helping me apply and interview for MD/PhD programs during my senior year of college. Thank you for helping me to be where I am today. "
Alice recently graduated from the M.D./Ph.D. program at Yale University. She completed the Ph.D. portion of the program in Neuroscience in December 2018, and focused her dissertation on high resolution imaging of myelin in the mammalian brain.
Alice is currently completing a combined residency and fellowship training program in Pathology and Neuropathology at Brigham and Women's Hospital, a teaching hospital of Harvard Medical School. Her ultimate goal is to become an academic neuropathologist (physician-scientist), investigating the biological basis of neuropsychiatric and/or neurodegenerative disorders, while also contributing clinically to the medical diagnosis and management of these diseases. Alice's research has been published in journals such as Nature Neuroscience and Proceedings of the National Academy of Sciences .
Alice writes, "UCLA provided the rigorous academic and scientific research environment for me to succeed. The comprehensive Physiological Science curriculum, the tough but incredibly knowledgeable and supportive faculty and graduate student mentors, the opportunities to perform and present undergraduate biomedical research, the opportunities to apply for scholarships and awards to continue pursuing academic/research topics I felt passionate about — all of these were major components in helping me to reach where I am today. At UCLA, I developed the foundation of knowledge, personal confidence, and academic problem-solving skills needed to help me succeed in the competitive graduate and medical school environments."
---
Wanda Hu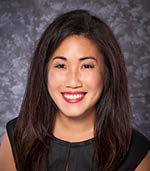 2004-2005 Bennett and Jeanette Duval Undergraduate Scholarship recipient
"Thank you so much for supporting my education in physiological sciences. I really appreciate it!"
Wanda is an ophthalmologist specializing in the diagnosis, therapy and surgical intervention of glaucoma and related disorders. After receiving her B.S. from UCLA, Wanda went on to the University of California, San Diego School of Medicine. After her internship in Internal Medicine at Kaiser-Los Angeles Medical Center, she completed her Ophthalmology Residency at the UCLA Stein Eye Institute. She then underwent a Clinical Glaucoma Fellowship training at the Wills Eye Hospital in Philadelphia, PA. Wanda has authored and co-authored numerous peer-reviewed articles and textbook chapters, and has presented her research projects at annual meetings of national ophthalmological organizations.
Of her experience at UCLA, Wanda writes, "Because there are so many intelligent and motivated people at UCLA, I too became more self-motivated and sought out the best opportunities (research, teaching etc.) to get to where I am today."
---
Laura Wozniak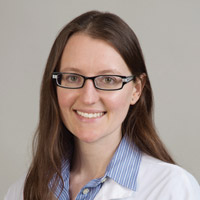 2000-2001 Bennett and Jeanette Duval Undergraduate Scholarship recipient
After earning her M.D. in New York, Laura has returned "back home" to UCLA, where she is an Associate Clinical Professor in the UCLA Department of Pediatrics, Division of Gastroenterology, Hepatology & Nutrition. She is also the Co-Director of the UCLA Pediatric Celiac Disease & Eosinophilic Esophagitis Clinic, and was President of the UCLA Department of Pediatrics Group Practice for several years.
Laura received her B.S. in Physiological Science, summa cum laude, from UCLA, and went on to attend the Albert Einstein College of Medicine in New York, where she was a member of the Alpha Omega Alpha Honor Society. She held her pediatric internship and residencies at UCLA Mattel Children's Hospital, and also completed an M.S. in Health Services at the UCLA School of Public Health.
Laura has received numerous fellowships and research grants for her work, including one from Pfizer, Inc. She has also been an invited reviewer for the American Journal of Transplantation, World Journal of Pediatrics, Transplant International, and Gastroenterology.
---
Rondi Kauffman (nee Blomberg)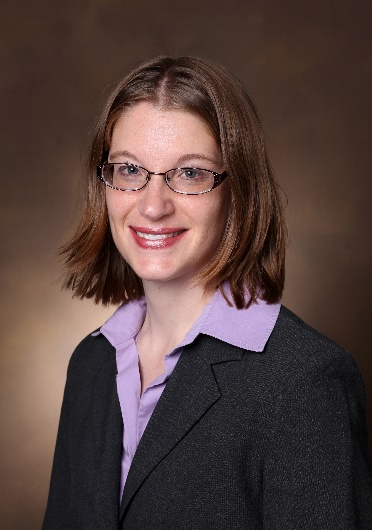 1999-2000 Bennett and Jeanette Duval Undergraduate Scholarship recipient
"My time at UCLA gave me the tools to succeed as a clinician and researcher. I was exposed to the joy of discovery, and trained in medical and scientific inquiry."
One of the two first Duval Scholarship recipients, Rondi is an Assistant Professor of Surgery at Vanderbilt University Medical Center in Nashville, Tennessee and is a board certified in both General Surgery and Complex Surgical Oncology. She completed medical school at the University of Minnesota, her residency in General Surgery at Vanderbilt University, and a fellowship in Complex Surgical Oncology at the City of Hope in Duarte, CA. She is also the Associate Program Director for General Surgery at Vanderbilt, and is deeply involved in the School's global surgery efforts, directing their collaboration with AIC Kijabe Hospital in Kenya, through which they help to train African surgeons and increase surgical capacity in Africa.
---
Angela Chang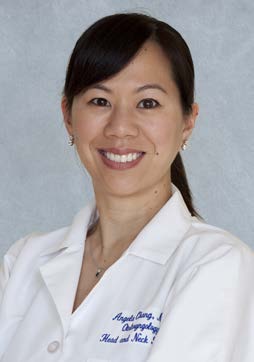 1999-2000 Bennett and Jeanette Duval Undergraduate Scholarship recipient
"Thank you for your generosity and support. Being the recipient of the Duval scholarship was truly an honor for me."
One of the two first Duval Scholarship recipients, Angela, is currently in private practice as an otolaryngology-head and neck surgeon in La Jolla. After her undergraduate studies at UCLA, she also earned her M.D. at UCLA, and then completed her surgical residency at UCSD. After a few years in group practice, she started her own practice last year, which has been an exciting next step. She was also recently elected as Chief of Otolaryngology-Head and Neck Surgery at Scripps Memorial La Jolla, and will be serving in this role from 2020-2022.
Angela writes, "I look back at my time at UCLA very fondly. It provided a strong basis on which my clinical skills are based, and opened many opportunities for me. While at UCLA, I had the unique opportunity to work with a mentor (professor in Physiological Sciences) who helped me design a research project investigating a question related to my other major (Music). I also volunteered at the Venice Family Health Clinic, which introduced me to healthcare, and later I had the unique opportunity to complete a 6-week summer internship at Cedars-Sinai. These experiences solidified my passion to become a physician."