https://wp.lifesci.ucla.edu/ibp/wp-content/uploads/sites/2/2019/09/Uxd_Blk_IntegrativeBioPhysio_A-e1573072346983.png
0
0
andrewtran
https://wp.lifesci.ucla.edu/ibp/wp-content/uploads/sites/2/2019/09/Uxd_Blk_IntegrativeBioPhysio_A-e1573072346983.png
andrewtran
2019-12-13 13:42:53
2020-06-09 19:31:47
Roy Wollman
Roy Wollman
Associate Professor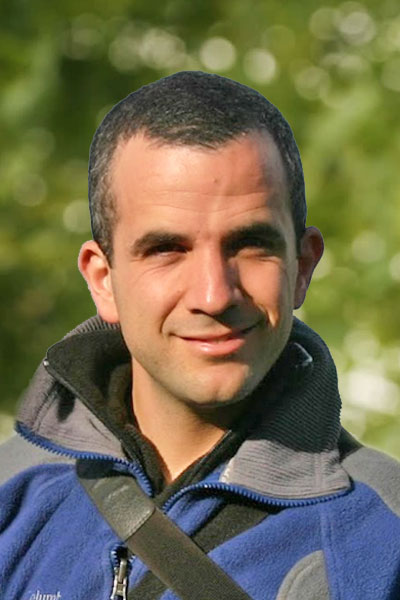 Email:
rwollman@ucla.edu
Office:
540 Boyer Hall
Phone:
(855) 810-0905
Website:
wollmanlab.ucla.edu
Biography
Dr. Wollman's training was highly interdisciplinary including statistics, biophysics, experimental biology. He is passionate about science, mentoring, and kite flying.
Research Interests
The Wollman lab studies information processing in intracellular and intercellular signaling networks in the presence of a high degree of single-cell variability. A particular focus is on the connection between gene expression and signaling dynamics at the single cell level.
Education
B.Sc, Biology, Tel Aviv University 2003
B.Sc, Statistics And Operation Research, Tel Aviv University 2003
Ph.D., Cell and Developmental Biology, University of California, Davis 2008
Selected Publications
Zhang T, Pilko A, Wollman R (2020) 'Loci specific epigenetic drug sensitivity.' Nucleic Acids Res, doi: 10.1093/nar/gkaa210 .PMID: 32246716
Foreman R, Wollman R (2020) 'Mammalian gene expression variability is explained by underlying cell state.' Mol Syst Biol, 16 (2): e9146. PMID: 32043799
Handly LN, Wollman R, "Wound-induced Ca2+ wave propagates through a simple release and diffusion mechanism", Molecular Biology of the Cell, 28 (11): 1457-1466 (2017) .
Yao J, Pilko A, Wollman R., "Distinct cellular states determine calcium signaling response", Molecular Systems Biology, 12 (12): 894-904 (2016) .
Handly LN, Pilko A, Wollman R (2015) 'Paracrine communication maximizes cellular response fidelity in wound signaling.' Elife, 4 (): e09652. PMID: 26448485
Selimkhanov J, Taylor B, Yao J, Pilko A, Albeck J, Hoffmann A, Tsimring L, Wollman R (2014) 'Accurate information transmission through dynamic biochemical signaling networks.' Science, 346 (6215): 1370-3. PMID: 25504722
James G. Tidball
Mansoureh Eghbali
Scroll to top