https://wp.lifesci.ucla.edu/ibp/wp-content/uploads/sites/2/2019/09/Uxd_Blk_IntegrativeBioPhysio_A-e1573072346983.png
0
0
andrewtran
https://wp.lifesci.ucla.edu/ibp/wp-content/uploads/sites/2/2019/09/Uxd_Blk_IntegrativeBioPhysio_A-e1573072346983.png
andrewtran
2019-12-13 13:42:53
2020-06-09 19:29:52
Claudio Villanueva
Claudio Villanueva
Associate Professor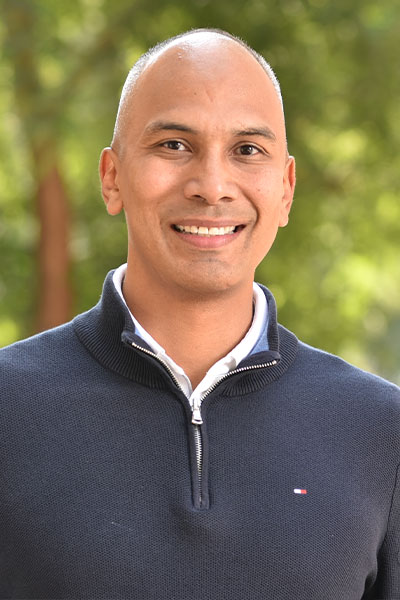 Email:
cvillanueva@g.ucla.edu
Office:
27-200K CHS
Phone:
(310) 825-4369
Website:
https://sites.lifesci.ucla.edu/ibp-villanuevalab/
Biography
Professor Villanueva completed his undergraduate training at Cal State San Bernardino where he studied hormonal regulation of sodium uptake across the abdominal epithelium. He was fascinated by the way multicellular organisms' sense and adapt to the surrounding environment. This early training sparked his interest in Integrative Physiology. As a Ph.D. student at UCSF, he trained at the Gladstone Institute of Cardiovascular Disease, where he studied lipid metabolism. He investigated the role of DGAT enzymes in fatty liver disease. His postdoc training was completed at UCLA, where he studied transcriptional mechanisms that regulate cellular programming of metabolism. He was recruited to the Department of Biochemistry at the University of Utah School of Medicine, and in 2019 joined the Department of Integrative Biology and Physiology at UCLA. His research aims to understand the metabolic adaptations required for cold adaptation in mammals.
Research Interests
Dr. Villanueva is interested in understanding how cells sense and control metabolism in response to stressors like temperature. The ability to maintain a constant body temperature despite a changing environment can lead to dramatic changes in energy expenditure. This requires an understanding of integrative metabolism and physiology. His lab will explore the molecular mechanisms that promote energy expenditure. He wants to understand how adipocytes regulate energy balance and how they communicate with the liver. These studies will provide opportunities for intervening in metabolic diseases that are associated with obesity.
Education
B.A., Biology, California State University, San Bernardino 2001
Ph.D., Lipid Biochemistry, University of California, San Francisco 2007
Selected Publications
Bensard CL, Wisidagama DR, Olson KA, Berg JA, Krah NM, Schell JC, Nowinski SM, Fogarty S, Bott AJ, Wei P, Dove KK, Tanner JM, Panic V, Cluntun A, Lettlova S, Earl CS, Namnath DF, Vázquez-Arreguín K, Villanueva CJ, Tantin D, Murtaugh LC, Evason KJ, Ducker GS, Thummel CS, Rutter J. "Regulation of Tumor Initiation by the Mitochondrial Pyruvate Carrier."
Cell Metab. 31(2):284-300 (2020).
Anthony RP Verkerke, Patrick J Ferrara, Chien-Te Lin, Jordan M Johnson, Terence E Ryan, J Alan Maschek, Hiroaki Eshima, Christopher W Paran, Brenton T Laing, Piyarat Siripoksup, Trevor S Tippetts, Edward J Wentzler, Hu Huang, Espen E Spangenburg, Jeffrey J Brault, Claudio J Villanueva, Scott A Summers, William L Holland, James E Cox, Dennis E Vance, P Darrell Neufer, Katsuhiko Funai., "Phospholipid methylation regulates muscle metabolic rate through Ca 2+ transport. efficiency", Nature Metabolism, 1 : 876-885 (2019) .
Charisse Petersen, Rickesha Bell, Kendra A Klag, Soh-Hyun Lee, Raymond Soto, Arevik Ghazaryan, Kaitlin Buhrke, H Atakan Ekiz, Kyla S Ost, Sihem Boudina, Ryan M O'Connell, James E Cox, Claudio J Villanueva, W Zac Stephens, June L Round., "T cell-mediated regulation of the microbiota protects against obesity", Science, 365 (6451): (2019) .
Gisela Geoghegan, Judith Simcox, Marcus M Seldin, Timothy J Parnell, Chris Stubben, Steven Just, Lori Begaye, Aldons J Lusis, Claudio J Villanueva., "Targeted deletion of Tcf7l2 in adipocytes promotes adipocyte hypertrophy and impaired glucose metabolism", Molecular Metabolism, 24 : 44-63 (2019).
Stephanie Pearson, Anne Loft, Prashant Rahbhandari, Judith Simcox, Sanghoon Lee, Peter Tontonoz, Susanne Mandrup, Claudio J Villanueva., "Loss of TLE3 promotes the mitochondrial program in beige adipocytes and improves glucose metabolism", Genes & Development, (2019).
Marah C Runtsch, Morgan C Nelson, Soh-Hyun Lee, Warren Voth, Margaret Alexander, Ruozhen Hu, Jared Wallace, Charisse Petersen, Vanja Panic, Claudio J Villanueva, Kimberley J Evason, Kaylyn M Bauer, Timothy Mosbruger, Sihem Boudina, Mary Bronner, June L Round, Micah J Drummond, Ryan M O'Connell., "Anti-inflammatory microRNA-146a protects mice from diet-induced metabolic disease", PLOS Genetics, 15 (2): (2019).
Gilles Storelli, Hyuck-Jin Nam, Judith Simcox, Claudio J Villanueva, Carl S Thummel., "Drosophila HNF4 directs a switch in lipid metabolism that supports the transition to adulthood", Developmental Cell, 48 (2): 200-214 (2019).
Simon T Bond, Sarah C Moody, Yingying Liu, Mete Civelek, Claudio J Villanueva, Paul Gregorevic, Bronwyn A Kingwell, Andrea L Hevener, Aldons J Lusis, Darren C Henstridge, Anna C Calkin, Brian G Drew., "The E3 ligase MARCH5 is a PPARγ target gene that regulates mitochondria and metabolism in adipocytes", American Journal of Physiology-Endocrinology and Metabolism, 316 (2): E293-E304 (2018).
Santhosh Karanth, JD Adams, Maria de los Angeles Serrano, Ezekiel B Quittner-Strom, Judith Simcox, Claudio J Villanueva, Lale Ozcan, William L Holland, H Joseph Yost, Adrian Vella, Amnon Schlegel., "A Hepatocyte FOXN3-α Cell Glucagon Axis Regulates Fasting Glucose", Cell Reports, 24 (2): 312-319 (2018).
Judith Simcox, Gisela Geoghegan, John Alan Maschek, Claire L Bensard, Marzia Pasquali, Ren Miao, Sanghoon Lee, Lei Jiang, Ian Huck, Erin E Kershaw, Anthony J Donato, Udayan Apte, Nicola Longo, Jared Rutter, Renate Schreiber, Rudolf Zechner, James Cox, Claudio J Villanueva, "Global Analysis of Plasma Lipids Identifies Liver-Derived Acylcarnitines as a Fuel Source for Brown Fat Thermogenesis", Cell Metabolism, 26 (3): 509-522 (2017) .
James G. Tidball
Mansoureh Eghbali
Scroll to top